The CCA spends considerable behind-the-scenes time and effort managing access for the climbing community, to the ACT climbing areas. The CCA's access work includes:
attending community consultations with government agencies and – where appropriate – preparing submissions to maintain access to climbing areas in the ACT,
meeting with ACT Rangers to provide input into such issues as cliff access and cliff care, and
disseminating ACT Government notices that are relevant to the climbing community within the ACT.
For example, the CCA is an active participant in the ACT Government's Recreation Users Stakeholder Group, which provides a regular forum to discuss matters related to active recreation participation and the management of recreation on public land and water in the ACT.
Temporary closure of Booroomba Rocks from Monday 19 July 2021
ACT Parks have announced the temporary closure of Booroomba Rocks from Monday 19 July for three weeks and possibly longer. Works will commence on repairing the damaged culvert/bridge on the Booroomba Rocks Road. As there will be no vehicular access, there will be no ability to conduct rescues/recovery of injured walkers and climbers in a timely fashion, hence the need to actually close the summit walking track and climbing areas.
This is only a temporary measure and climbers are requested to be patient while works are in progress. We will let you know once the area reopens.
The Delegate of the Conservator of Flora and Fauna has provided further details of the closure, including a map.
Parks and Reserves access in the ACT, April 2021
The ACT Parks and Conservation Service has announced that all areas of Namadgi National Park will reopen to the public from Friday 9 April. This includes Booroomba Rocks and Orroral Ridge.
HOWEVER, because of the heavy rainfall event in late March, some public roads remain closed. Apollo Road will be opened to all traffic from Friday 9 April, but the Booroomba Rocks Rd will unfortunately remain closed to public vehicles as the major creek crossing (where the guard rails and asphalt section is) has been severely undermined by rainfall and requires total replacement. ACT Parks have also not been able to repair the rest of the road so it's pretty dilapidated and in need of grading before it can be re-opened. Repairs may take a few months, unfortunately, and in the meantime ACT Parks are minimising vehicle access for essential management purposes only.
This means access to Booroomba Rocks is only by foot; it's 3kms each way from the gate off Apollo Rd or about 4km each way via the Alps Walking Track. Climbers are welcome to access Booroomba Rocks on foot via either of these routes.
The Orroral Ridge link road also currently remains closed to public vehicles, as the road has suffered considerable erosion from recent heavy rainfalls and requires work. Access to Orroral Ridge is about 4kms each way by foot from Honeysuckle Creek Camping Ground.
Honeysuckle Crag is more easily accessible by foot than either of the above-mentioned climbing areas. The CCA has not inspected Honeysuckle Crag and we do not know what condition it is in.
Honeysuckle Creek Camping Ground is closed to camping for the foreseeable future.
Please visit the ACT Parks and Reserves website to check for updates on areas and roads being re-opened.
Assessment of fire damage to Booroomba Rocks
The CCA is proceeding undertake a more detailed assessment of damage to Booroomba Rocks (as recently communicated to all Club members via email). We would ask that anyone who climbs in the above-mentioned areas keep the CCA informed of any significant rock damage, hazards and route changes. We will keep a record of these and ensure updates are provided to climbers through the CCA website, emails, the CCA Facebook page and theCrag.com
A detailed report of Booroomba Rocks after the fires was compiled by CCA members in April 2021.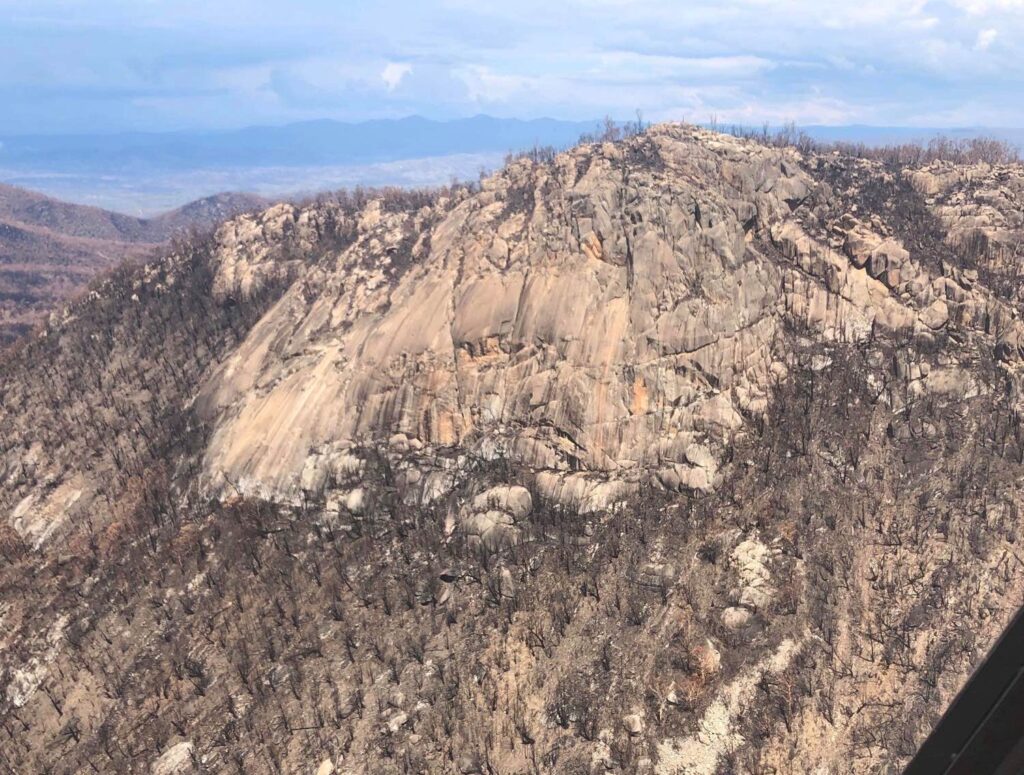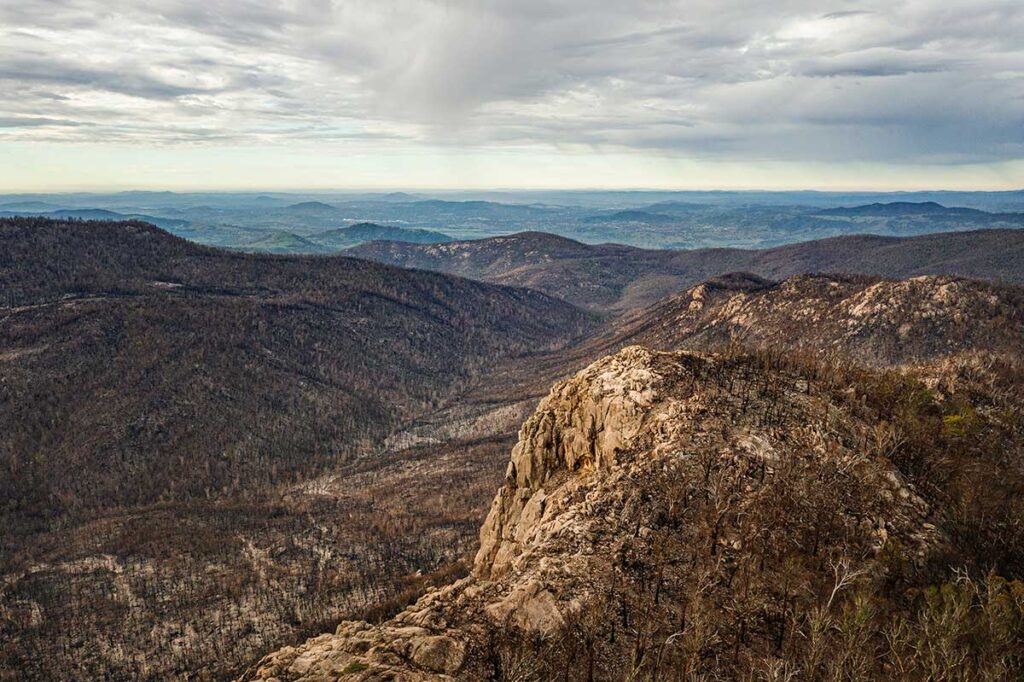 More photos of Booroomba Rocks post 2020 bushfires are available on our Facebook page: 19 June Booroomba Rocks survey by CCA.
Climbing access to Red Rocks Gorge and Kambah Rocks
There is a seasonal ban on climbing and abseiling at the Red Rocks Gorge crag, August 1 – December 31, due to the nesting of Peregrine Falcons.
After consulting with ACT Government ecologists and an independent raptor expert, the ACT Parks and Conservation Service Chief Ranger for the Murrumbidgee River Corridor is happy to advise CCA that, as of August 2019, climbing and abseiling at Kambah Rocks permitted year round until further notice.
Previously, circa 1980-90s when the first research was occurring, a seasonal climbing ban applied to Kambah Rocks too, though this was not made 100% clear and the ACT Parks and Conservation Service was less concerned about this area in general.
The ACT Parks and Conservation Service continue to monitor Peregrine Falcon nesting in the area and will advise CCA if any changes to the closure period and/or geographical extent of the closure need to be implemented in the future.
Climbing access to Ginninderra Falls
Ginninderra Falls were 'The ACT's answer to Hanging Rock' – near the city, with a long history of climbing and hordes of tourists. Climbing began at Ginninderra Falls in 1967, with members of the ANU Climbing Club showing interest in the area. Technically in New South Wales, this area was enjoyed by many Canberra climbers, particularly northsiders who have few other crags nearby.
The area was closed to the public in the mid-2000s. Since then, members of the Ginninderra Falls Association have put together a proposal for an area which includes Ginninderra Falls to be made a national park. The CCA will be watching the progress of this proposal with interest.
Details of the proposal can be found at the Murrumbidgee – Ginninderra Gorges National Park website.
Submissions
Submissions prepared by the CCA include the following:
2021
CCA submission to the Draft Greater Gariwerd Landscape Management Plan 2021 (PDF 2.7MB)
2019
Submission by the CCA on the Canberra Nature Park Draft Reserve Management Plan, 15 December 2019 (PDF 469KB)
2010
Namadgi National Park Plan of Management 2010 (PDF 4.04MB)
Rock climbing and abseiling (extract from Plan of Management) (PDF 176KB)
2009
CCA LHI Balls Pyramid Submission covering Letter, 26 June 2009 (PDF 203KB)
CCA LHI Balls Pyramid Submission, 26 June 2009 (PDF 117.4KB)
2008
CCA Scabby Range Nature Reserve Submission, 8 October 2008 (PDF 165KB)
2005
CCA Namadgi Submission, 28 November 2005 (PDF 51.2KB)
2004