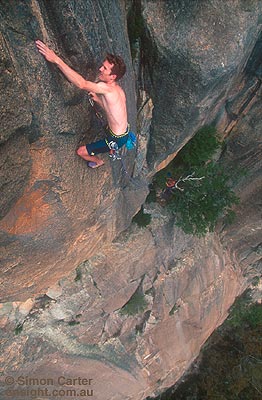 Booroomba Rocks is the largest crag near Canberra and has some fantastic granite climbing. This crag was developed mainly through the 70s and 80s, and the routes tend to be a mixture of natural gear and bolts, with plenty of long run-out slabs for your mind to contend with. The crag is about 140m at its highest around the Central Slabs but there are many single-pitch climbs around the Middle Rocks and the South Buttress areas.
To get there, drive south of Canberra to Tharwa, cross the big old bridge over the Murrumbidgee River and turn left towards Namadgi National Park. Continue for about 10km until you come to a right hand turn on a crest which is Apollo Road – follow this for about 8km until you come to another right hand turn; this road is dirt and leads to the Booroomba Rocks car park. From here it's roughly a 15-20 minute walk up the hill on the tourist track which leads you to the top of Middle Rocks. Booroomba Rocks gets most of the days' sun, which is great on a winter's day but creates a frying pan on the slabs in summer.
Booroomba Rocks after the 2020 bushfires
Following the extensive January 2020 bush-fires, which engulfed large tracts of the Namadgi National Park including the Booroomba Rocks area, CCA members inspected the fire damage to some of the more popular climbs at the crag just prior to Easter 2021, when the crag was reopened to the public. The Booroomba Rocks after the fires report details our findings and recommendations to climbers in the area.
Route information
The Booroomba Rocks Northern Slabs guide (PDF 4.4MB) showcases Canberra's most extensive easy-to-moderate slab climbing.
Comprehensive information about routes at Booroomba Rocks is available in the ACT Granite guidebook (1989) and in the list at the bottom of this page for routes established since 1989. Route information is also available at Booroomba Rocks on thecrag.com.
Abseil points for accessing routes at Booroomba Rocks
Please note that the CCA takes no responsibility for the accuracy of this information. This information is provided by climbers, for use by competent and experienced climbers. As with anything related to climbing, there are risks associated with abseiling. Consider backing up your abseil. If in any doubt, you should seek qualified instruction.
South Buttress
Top of Dangermouse (near Integral):
25 metres to platform, then walk and scramble off north (up the gully)
35 metres to ground
Top of Equanimity:
Top of African Walking Tree:
20 metres to platform in Square Gully
30 metres to ground
Platform in Square Gully:
Above Modern Times Direct Finish:
Top of Jack's Crack:
30 metres to ground (with some scrambling, this is accessible for climbs from Jack's Crack through to Possum)
Ledge above Winter Retreat and Unusual Weather:
Cakes and Ale:
Top of Vomit:
Cocker's Gully – Top of Scungy Wall / Plimsole Line:
Middle rocks – Top of Hurricane Cracks Wall:
30-35m abseil to base of wall
Cave wall
Double rings at top of Cave Route – suitable for lower-off only
Abseil point above Kathy and Jacob – 25m to ground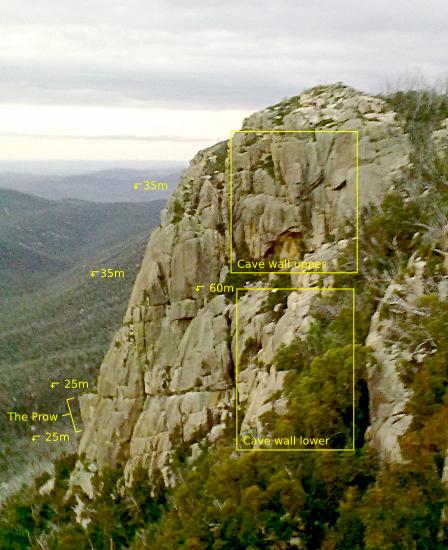 North Buttress
Top of Hermes:
30 metres to Hermes belay ledge (natural anchor only on this ledge)
60 metres to ground
Top of Yellow Brick Road (see photo):
(a) 35 metres
(b) 35 metres
(c) 25 metres
(d) 25 metres
If abseiling with double 60m ropes, (b) and (c) can be combined to get to (d) at the base of the Prow; a 60m rap from (a) gets to the base of Yellow Brick Road alternate start and the start of Jet Arete; (c) is at the top of the Prow (also known as "Determinant Ledge").
Central Slabs
From top of Nothing Left:
(a) top of Nothing Left: 50-60 metres
(b) below headwall of Nothing Left: 50 metres
(c) first belay of Closer In/Extreme Youth/Channel 19: 50 metres
Top of first pitch of Outer Limit:
Top of Smash Palace:
(a) 50 metres
(b) 50 metres
Snickers Wall sport routes all finish at lower-offs.
Top of Astradyne:
Scramble down till you get to the top of the slabs, rap 50 metres down and right a little to 3 anchors in a corner
30 metres to ground at the start of Silver City Highway
Psychosomatic:
Pitch 1, Unacceptable in the 80s: