These granite boulders are situated in the hills of Tallaganda National Park in a beautiful eucalyptus forest. The hills in this area are known for their evening mists and it is a reliably cooler place to climb when the weather is warm. The bouldering is quite spread out along the road in small concentrations, although there are tonnes of granite boulders. This area was first developed as a bouldering area by Duncan Brown and has now seen a lot of development from the usual Canberra climbers. The granite quality here can be excellent with fine, crisp holds.
To get there drive out of Queanbeyan towards Bungendore on the Kings Hwy and take a right turn onto Captains Flat Road. Drive along this for a fair while and then take a left turn onto Briars Sharrow Rd (easily missed). Cross the creek and continue up a short distance and take the next right. Drive to the end of this road and at the T-intersection turn right. This is Hoskinstown. Drive through and take a left which turns to dirt (Forbes Creek Rd), pass the fire brigade and up and over the hill to Forbes Creek (very small group of houses), take a sharp right, then a sharp left and head up the road till you arrive at the intersection with North Black Range Fire Trail.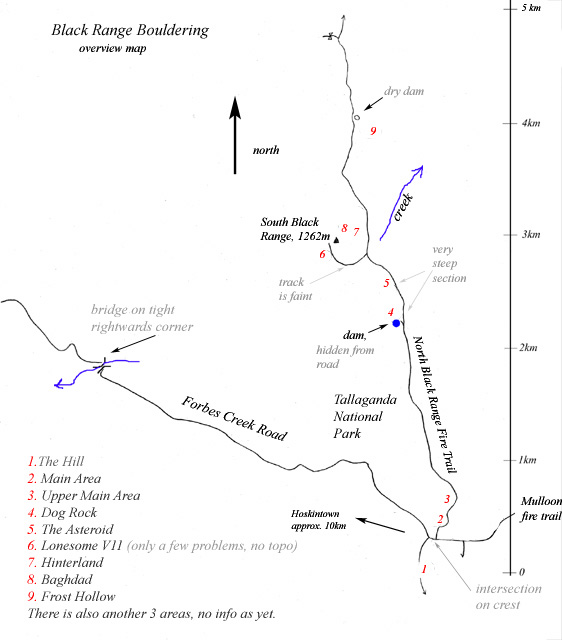 The Hill
Just before the intersection turn right and drive up a track onto a little crest and park. This area has an excellent steep little wall.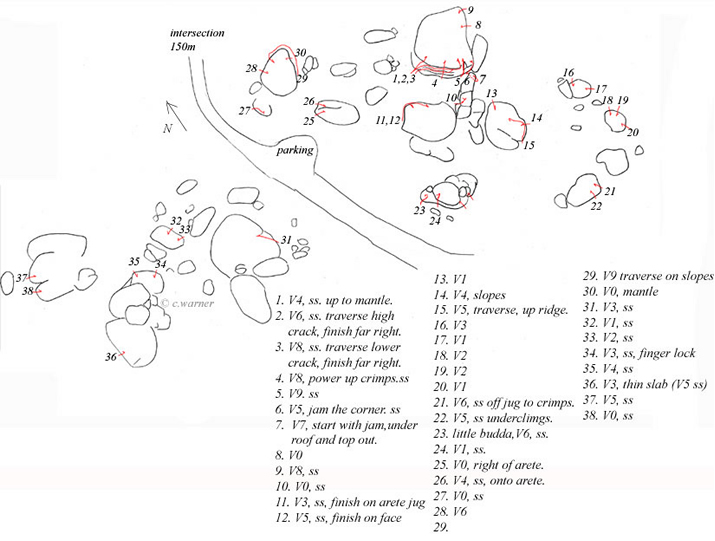 Main area
This is the first area you come to after you turn left onto North Black Range Rd. There is a small boulder that you pass on the left that has 4 good problems on it as well. You can either turn off to the left and park or follow the road as it curves around the boulders to the right and park.

Upper main area
This area is a little way up from the main area. It is possible to walk up or you can drive a little way up and pull off to the left and park, only about 200m past the run-and-jump boulder. Then walk in about 300m past some boulders on your right. Look for an excellent left-to-right seam that blanks before an arête. This is a fantastic V9.
There are other problems that have been done all around here.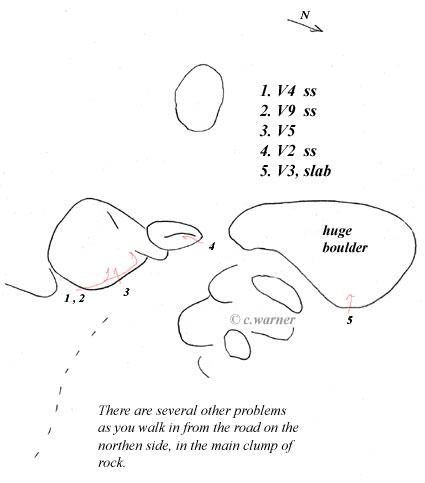 Dog Rock
This area was found and developed by George Fieg and Andrew Bull and is a fair way up from the main area. Drive up the road until there's a little turn to the left near a small dam and a clearing (just before a big hill with blue gravel). Park and walk diagonally up and left into the trees for several 100 metres until you find some boulders.
The Asteroid
This block sits on the left hand side at the top of the steep hill with the blue gravel on it and is manly the work of George Fieg.
Hinterland
This area has a lot of rock, most of it blank, but sports some stellar lines. Robert Lange and Chris Warner were the first to start developing this area of Black Range in 2003 and there's still some potential here. Drive past the Asteroid and continue down the hill for a bit and park were the road widens; there is a cairn but it's easily missed.
Baghdad
This little area is up beyond Hinterland and has two really steep and excellent lines. Wander up past Hinterland until it flattens out slightly and head diagonally rightwards a few 100m; may be tricky to find at first.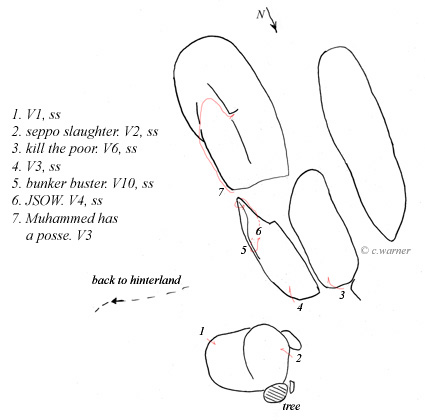 Frost Hollow
This area is the furthest along the track. Drive along past Hinterland about 800m and park on the left (not much room) just after you can see a clearing on the right. If you drive past an empty dam on the right you have gone to far; go back 100m. This area has one of the best V2s around – a stunning 4m flake.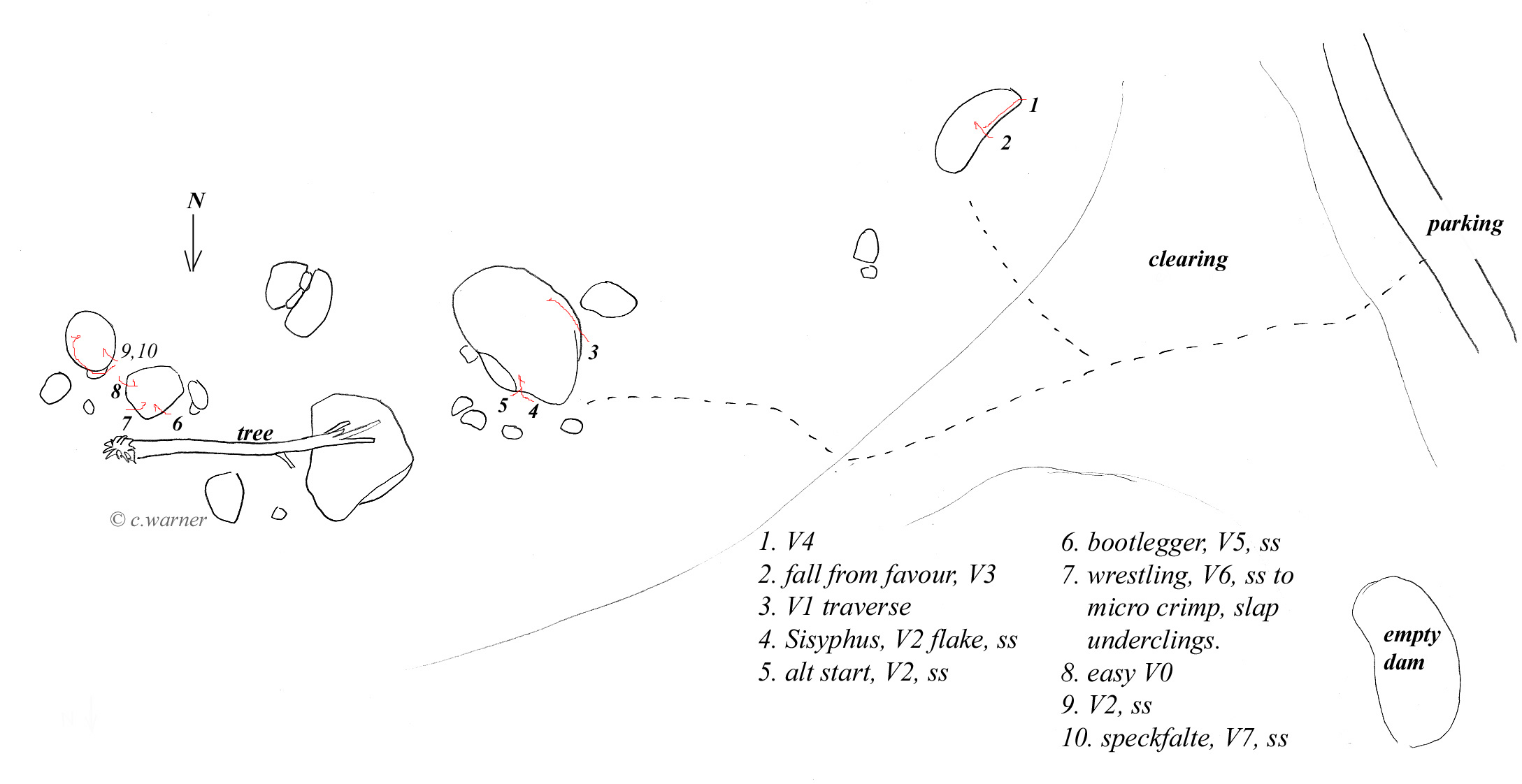 All routes at Black Range
Updated guides and notes contributed from the community via thecrag.com, are:
Photos
Black Range bouldering photos contributed from the community via thecrag.com, are: