Mt Coree image gallery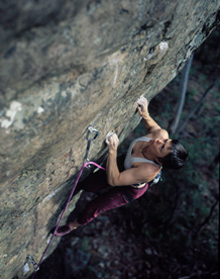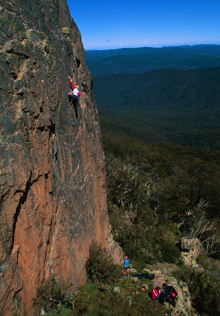 Mt Coree was the first crag in the ACT to see climbing; John Hammond put up the first route in 1958 and the next 25 years saw some 70 routes put up. Most of these are hard to find and are not on the walls where there are now sports climbs. Peter Aitchison published a guide in 1967 called "Rock Climbs in the Australian Capital Territory" if one so desired to rediscover these routes. The newer sports climbs were mostly put up between 1996-99 by George and Sarah Fieg, Glen Jones, Justin Ryan, Chris Warner and Nathan Wales. There are now over 75 climbs that spread along the ridge of Mt Coree.
The weather at Mt Coree can vary greatly; the cliffs getting most of the days' sun, so it can get very hot in summer. Because of Mt Coree's altitude of 1400m, it can get quite cold in winter and often snows there, but if there's no wind and the sun is out, winter conditions are excellent. Best times to climb at Mt Coree, though, are spring and autumn.
To get there, drive west of Canberra and get onto Brindabella Road (via the Cotter or Uriarra Road), drive until you get to Piccadilly Circus, which is an intersection on a saddle in the Brindabella Range. Turn right and head north along the dirt road (Two Sticks Road). At 7km you pass a turn to your right, keep going straight about another 1km and you will see the boulder of Hollywood on the right. Continue for another 1km or so and there's a right turn, take this road – it's the summit road to the main climbing area. Drive as far as you feel comfortable, as the road gets a little rough. Best to park on the last bend after you drive past an open gate near the top. Wind Wall is the first wall to your left after a 20m walk.
There is a more direct way by taking the first right after you hit the dirt on Brindabella Road, continue down to the creek, cross the little ford and take the first left (Curries Rd) and power up the hill to meet Two Sticks Road at the southern end of Mt Coree. Now turn right and continue as above, after first passing Hollywood.
Hollywood
This dense little crag sports some of the steepest, hardest and shortest routes in Canberra. Hollywood sits on the western side of Mt Coree about 100m off Two Sticks Road on the up hill side just before a section of scree, park on the bend and walk up track. There is also bouldering around the base of the the climbs.
Mt Coree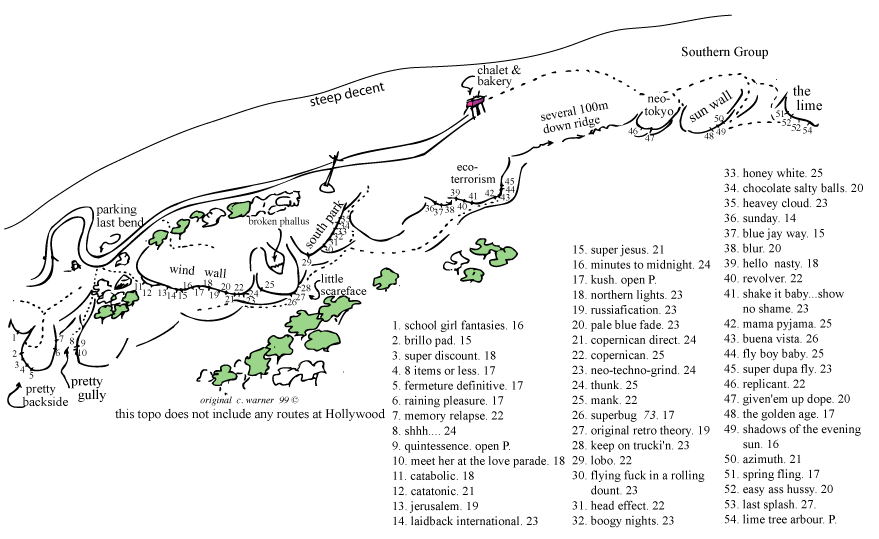 Pretty Gully
From the car walk straight down the loose rock and drop into the little gully on the left. Then scramble down some broken rock to the base of the climbs.
© c.warner
1. Raining Pleasure, 17 (N. Wales)
2. Memory Relapse, 22 (J.Ryan)
3. Shish, 24 (C.Warner)
4. Quintessence, open project
5. Meet her at the love parade, 17 (C.Warner)
Pretty Backside
This area can be accessed from Pretty Gully by walking around the corner or you can approach from the top and scramble down to the right between the two little walls (looks harder than it is). This area has a few good easy routes.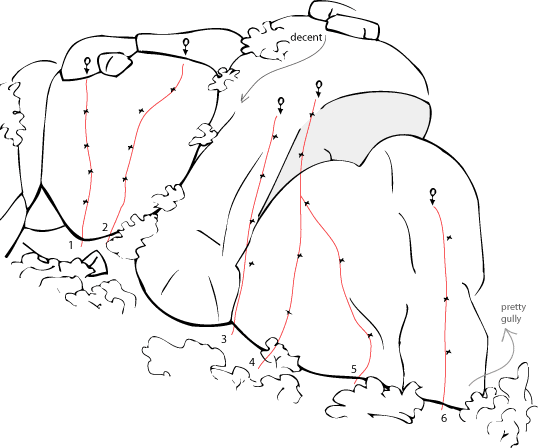 1. School Girl Fantasies, 14 (C.Warner)
2. King Cup No.1, 13 (N.Wales)
3. Brillo Pad, 15 (N.Wales)
4. Super Discount, 18 (N.Wales)
5. 8 Items or Less, 17 (N.Wales)
6. Fermeture Definitive, 17 (N.Wales)
Wind Wall
This is the main wall at Mt Coree with the highest concentration of routes. It also has the easiest access, a big 20m from the car.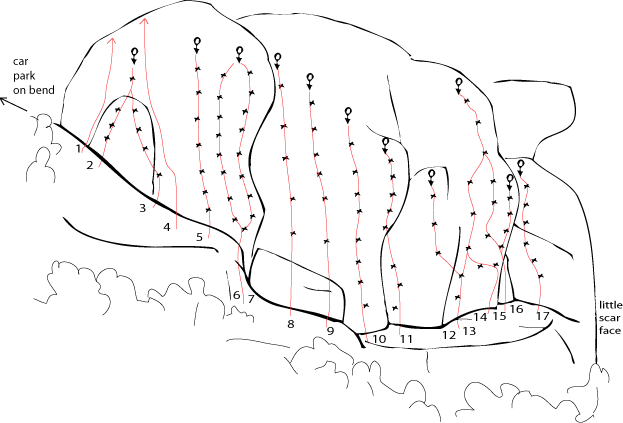 1. Dance Macabre, 13
2. Catabolic, 18 (H.Meffin)
3. Catatonic, 21 (J.Ryan)
4. St Vitus Dance, 18
5. Jerusalem. 19 (J.Smart)
6. Laidback International, 23 (C.Warner)
7. Super Jesus, 21 (C. Warner)
8. Minutes to Midnight, 24 (S.Carter, K.Lawton)
9. Kush, open project
10. Northern Lights, 23 (J.Ryan)
11. Russiafication, 23 (C.Warner)
12. Pale Blue Fade, 23 (C.Warner)
13. Copernican Direct, 24 (C.Warner)
14. Copernican, 25 (N.Wales)
15. Neo Techno Grind, 24 (C.Warner)
16. Thunk, 25 (C.Warner)
17. Mank, 22 (C.Warner, N.Wales, J.Ryan)
Little Scar Face
Continue down past Wind Wall to reach this little buttress.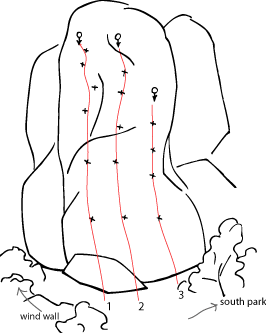 1. Super Bug Seventy Three, 17 (C.Warner)
2. Original Retro Theory, 18 (C.Warner)
3. Keep on Truck'n, 23 (N.Wales)
South Park
This area sits up and along from Little Scar Face, but can also be accessed from the top by walking down from a big steel post that's near the road on top.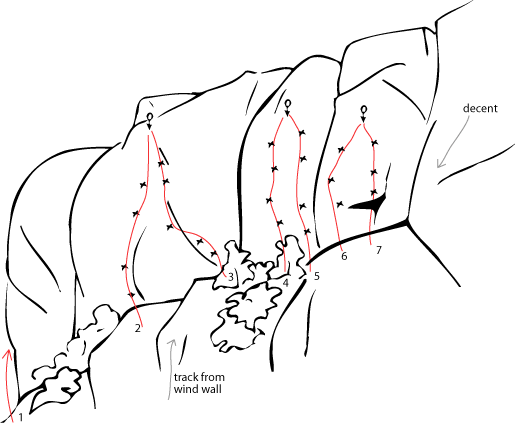 1. Lobo Arete, 22 (J.Ryan)
2. Flying Fuck in a Rolling Donut, 23 (J.Ryan)
3. Head Effect, 22 (J.Ryan)
4. Boggy Nights, 23 (J.Ryan)
5. Honey White, 25 (C.Warner)
6. Chocolate Salty Balls, 20 (N.Wales)
7. Heavy Cloud, 23 (C.Warner)
Eco-Terroism
This area is on its own little terrace, to get there continue along from Little Scar Face, passing beneath South Park. The track slowly rises and squeezes you along a little ledge onto the terrace.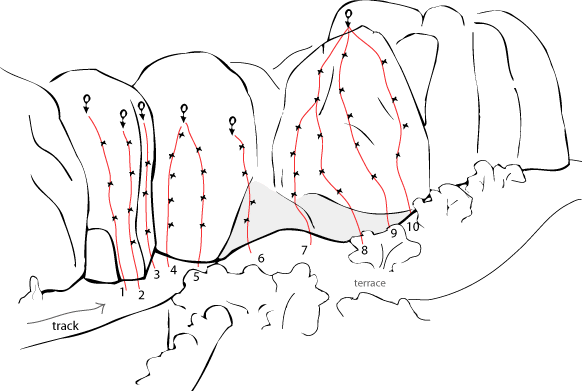 1. Sunday, 14 (C.Warner)
2. Blue Jay Way, 15 (N.Wales)
3. Blur, 20 (N.Wales)
4. Hello Nasty, 18 (C.Warner)
5. Revolver, 22 (C.Warner)
6. Shake it baby show no shame 22 (J.Ryan)
7. Mama Pyjama, 25 (C.Warner)
8. Buena Vista, 25 (N.Wales)
9. Fly Boy Baby, 25 (C.Warner)
10. Supa Dupa Fly, 23 (J.Ryan)
Neo-Tokyo
To get to this crag walk to the fire tower on top of Coree and follow down the ridge on a faint track passing cairns. After several 100 meters drop off to the right.
1. Replicant, 22 (N.Wales)
2. Given'em up Dope, 20 (C.Warner)
3. Titus Andronicus, 17 (C.Warner)
Sun Wall
Continue past Neo-Tokyo walking above Sun Wall and drop down an easy angled rock face, then cut back to reach the base of Sun Wall.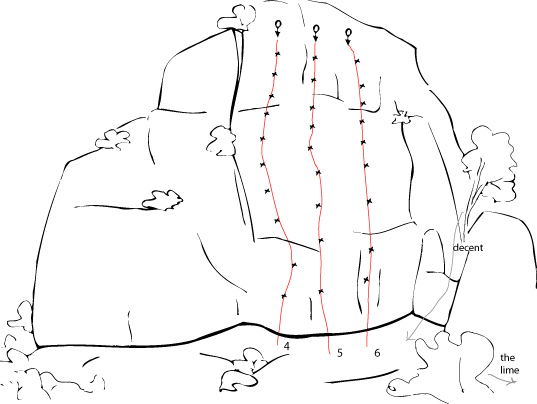 4. The Golden Age, 17 (N.Wales)
5. Shadows of the Evening Sun, 16 (C.Warner)
6. Azimuth, 21 (N.Wales)
The Lime
Walk down and left from Sun Wall. This crag can also be accessed by walking straight up from Hollywood.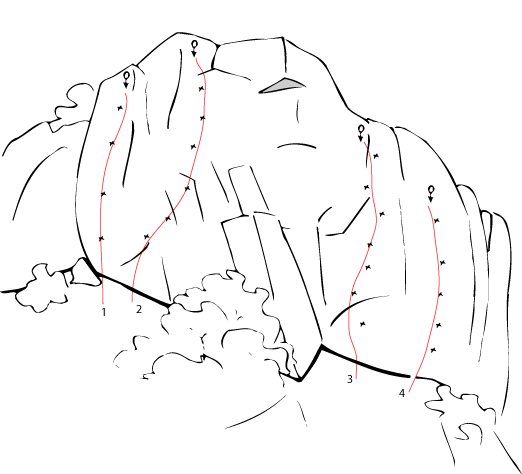 1. Spring Fling, 17 (C.Warner)
2. Easy Ass Hussy, 20 (C.Warner)
3. Last Splash, 27 (C.Warner)
4. Lime Tree Arbor, 24 (N.Wales)
New routes in the Mt Coree area
Routes established since the publication of the ACT Granite 1997 guide and contributed from the community via thecrag.com, are:
New routes in the Hollywood area
Routes established since the publication of the ACT Granite 1989 guide and contributed from the community via thecrag.com, are: