This area is the closest bouldering to Canberra and is spread out along Cooleman Ridge behind the suburbs of Chapman and Kambah. There are a few quality problems here and the atmosphere is pleasant, although it's by no means the best bouldering around. Most of the little areas have blue markings on the rock that correspond to the numbers of the topos. This area has been visited by climbers since the early 80s (maybe longer) and there is no real record of names of problems or what's been done. What's stated here is by no means a definitive record, but an attempt to make the bouldering here more accessible, so take a walk and enjoy the quiet.
Niblo Boulders
Best to park in Niblo Place in Chapman, walk up the path at the end of the cul-de-sac to the fire-trail, turn right and up the small hill. If you look northish along the ridge, you will see a few more boulders in the distance that have the odd problem as well. All the other areas here are south towards Kambah and Mt Arawang (the big hill).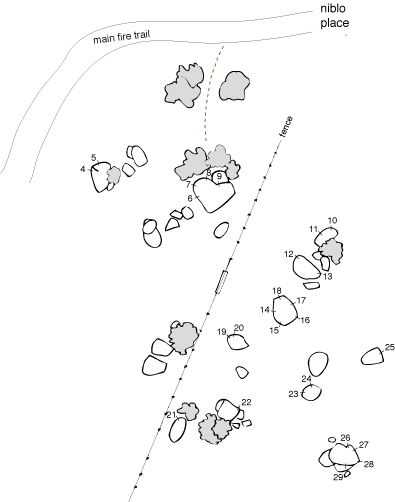 This next little area is down the track a short distance from the big water tank towards the river and distant hills. It stars a really good and hard crimp/sloper traverse.
30. V0
31. V0
32. V2
33. V3
34. V1
35. V8
36. V2
37. V2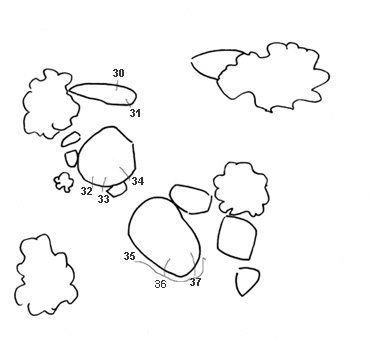 The Split Cherry
This area is near the water tank on the south west side of the ridge.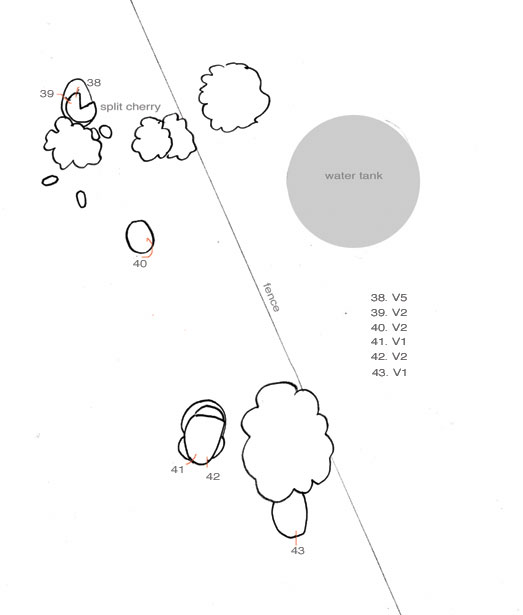 Sun Blocks
This area is on the south-western side of the ridge and has some good slabs.
45. V3
46. V4
47. V5
48. V3
49. V3
50. V3
51. V1
52. V3
53. V1
54. V2
Pony boulders
These boulders are best accessed from the Kambah side of Cooleman Ridge.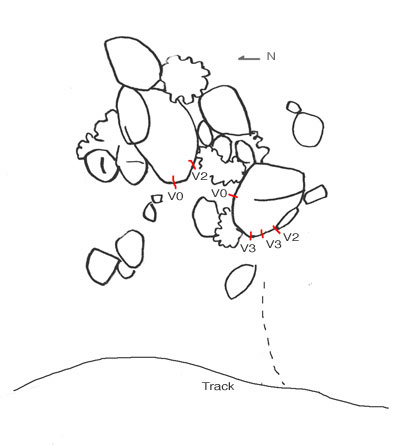 Horse Paddock boulders
Best to access these blocks from the Kambah side. Park at the yards and walk northish to the little hill.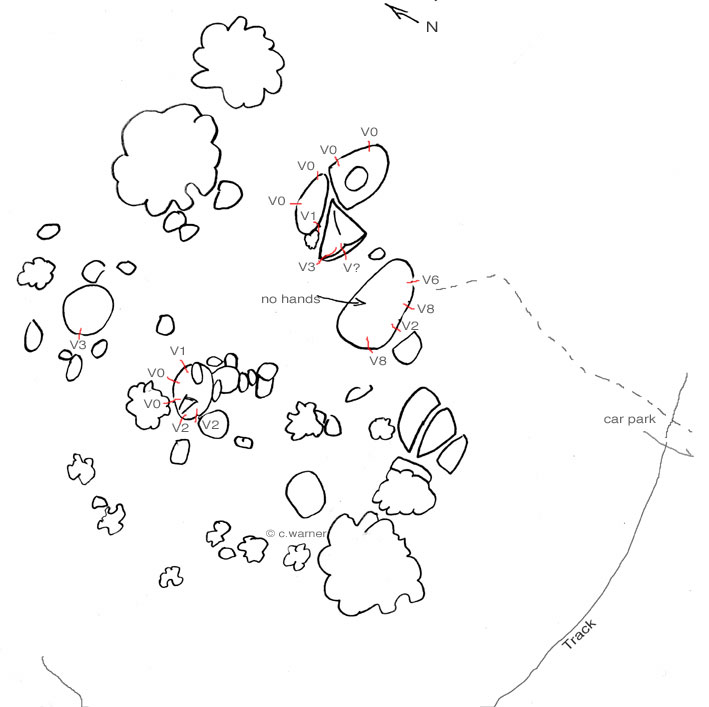 All routes at Cooleman Ridge
Updated guides and notes contributed from the community via thecrag.com, are:
Photos
Cooleman Ridge bouldering photos contributed from the community via thecrag.com, are: