Introductory Climbing Day – Booroomba Rocks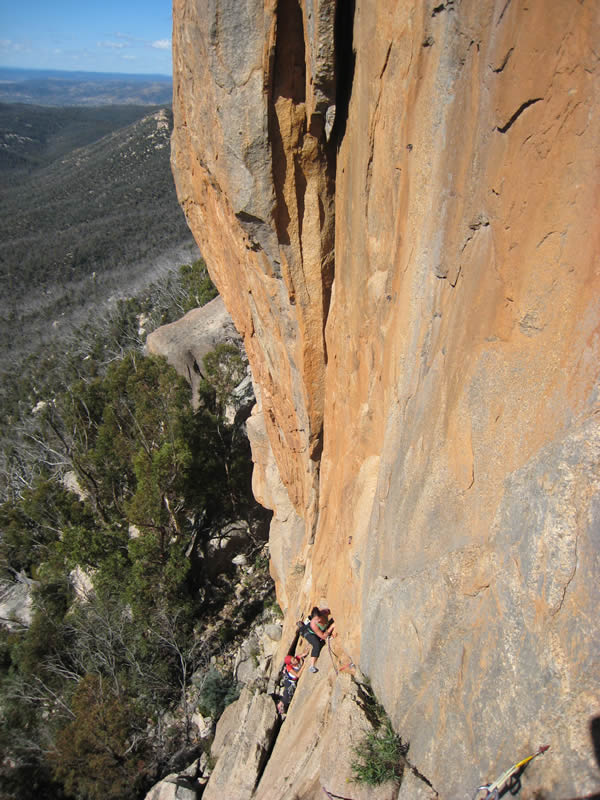 Our popular introductory climbing day at Booroomba Rocks, Namadgi National Park, is a great way for newer CCA members who are first-time climbers at Booroomba to enjoy the delights of the classic trad climbs at the Booroomba crag. It is also a great opportunity for indoor climbers to experience the joys of outdoor and trad climbing.
You will be led up a selection of classic routes at Booroomba Rocks, by experienced CCA members; grades will depend on climbers and leaders.
Participation
Participants of any experience are welcome. The numbers who can participate will depend on how many CCA leaders we have, and we aim for a ratio of one leader/guide for a maximum of two participants, so it's first in – best dressed!!
You will need to join CCA on the day if you are not a member ($20 for one year or $50 for three years), and all participants will need to sign the CCA Activity Waiver (PDF 75KB) before attending.
Please register your interest with the coordinator, Zac Zaharias (see details below). Registrations open from 24 April 2019.
What to bring
You will need to bring your personal climbing gear (climbing shoes, chalk bag, harness and helmet) plus food and water for the day. A water bottle that you can attach to your harness comes in very handy, as most climbs at Booroomba Rocks are multi-pitch. Many of the climbs are in full sun for most of the day so some form of sun protection is a good idea.
Meeting time and location
We will meet at the Booroomba Rocks car park at 9am for introductions and to organise climbing parties. To get to the car park, drive up Apollo Road to about 1km before the Honeysuckle Creek Tracking Station. Turn right onto the gravel road (it's signposted) and follow this to the end, about 3 km.
Booroomba Rocks image gallery Booroomba Rocks climbing guide
Related Events